How do you propose to the girl with whom you want to spend the rest of your life? This article is the result of months of research and brings you the ULTIMATE collection of proposal ideas! Enjoy it!
Police Pull Over Proposal
Arrange with a police officer to pull you over when you leave your home with her. Place the ring in your glove compartment and when you are stopped by the police, you reach for the glove compartment and take the ring out.
Here is an example an a guy who staged his proposal with the help of the cops.
Flash Mob Proposal
If you really want to impress your girlfriend and you have dancing and singing skills, you definitely want to consider hiring a flash mob to help you with your proposal. Just invite your girlfriend out to a terrace or a walk in the park and the hired professionals will create the mood at the perfect time to pop the question.
Make sure you feel comfortable to propose in front of so many people and hire a wedding photographer to immortalize the moment.
Fireworks Proposal
If you really want to impress your girl, go crazy and prepare electric candles (in case the wind blows) and a private fireworks show just for the two of you. Make sure you hire a videographer to immortalize this amazing moment. Here is a video to help you! Happy Proposal Planning!
Forced Landing Proposal
If you can fly a private plane, pretend you have to do a forced landing and write the proposal among the landing instructions.
Post it Notes Proposal
This works if you live in an urban area. Ask your friends to use post it notes to create the message that tells her she is the one with whom you want to spend the rest of your life.
Marry Me Cake
One of the most creative marriage proposal ideas was to have a baker make a delicious cake on which it was written "Will You Marry Me?" The couple went for a walk in the neighborhood and when they arrived in front of the bakery he got down on his knee and popped the question.
Also, you can ask the baker to place the ring on top of the cake and ask her to buy a cake.
Another version of this plan is to give your girlfriend a birthday cake on which you write the question. She will be totally surprised by this.
365 Day Proposal
Start recording a clip on your girlfriend's birthday telling her how beautiful she is, how much she means to you and that you want to spend the rest of your days together. Do that every day until the next birthday when you show her the final clip and pop the big question in person.
Metal Detector Proposal
This is a super creative method to convince the girl of your dreams to say yes! Bury the ring in a secluded spot and take your girlfriend on a treasure hunt. Let her discover the "treasure" and live happily ever after!
Nesting Dolls / Matryoshka Dolls
Another interesting way to ask the extra special girl in your life to marry you is by inserting the engagement ring in the smallest matryoshka doll and wrapping the dolls for your girlfriend to discover. Make sure you have a bottle of champagne to celebrate the event.
Skywriting Proposal
If your soulmate likes drama, this is another great idea to propose to your girlfriend. Invite her to a walk in the park and at the right time, the airplanes will show her and the world you want to spend the rest of your life together.
Here is where you can find companies that offer skywriting services.
Skydiving Proposal
This one is very simple if you have the strength to propose at the end of a plane jump. The idea is that you need to jump first (talk with the instructors to make sure you are ready when she lands). Arrange to have a photographer take a few pictures and at the right time, pop the question.
10,000 ft Proposal
For those who love adrenaline rushes, here is another variant of the above plan. Take a joint skydive and propose during the jump. Make sure you film the proposal. I don't know too many videographers who can film you at that altitude.
Roller-coaster Proposal

Take her to an amusement park and take a roller-coaster ride. When it is safe to do it, ask her to marry you! Make sure you don't drop the ring.
Flying Banner Proposal
This is another spectacular way to tell the extra special girl in your life to marry you! Hire a company that offers aerial advertising services, get the engagement ring ready and as they say, the rest is history. If you are the super adventurous type, arrange the proposal in front of friends
and family members.
Ask Her Hand in Marriage During a Helicopter Ride
A helicopter ride is a beautiful occasion to view the landscapes, enjoy an adrenaline rush and of course, pop the question. She will remember the moment for the rest of her life! Make sure you have a camera ready and arrange with the co-pilot to take some photos at the right time.
Top of The World Proposal
Arrange a trip to one the tallest buildings in the world and once you are in the perfect spot, ask her to grow old with you!
Street Caricature Proposal
This is a very romantic idea and Your Girlfriend will never suspect it! Talk with a street caricaturist to draw the scene of you asking her hand in marriage. When you walk down the street and pass by the artist's stand, just ask her casually to look at the drawing showing the proposal scene.
Magic Trick Proposal
For this idea to work, you will need to plan well in advance and use the help of a magician. Invite your girlfriend to a magic show. The magician will casually invite a volunteer (she will be the one) on stage to demonstrate a trick and at the right time...the magic will happen!
Propose on the Radio
If your girlfriend has a favorite radio show, ask them if they can help you out! This is a great PR opportunity for the radio station and they will be happy to accommodate.
Propose in Your Favorite Park
Do you have a park you both love? If yes, this should be among your favorite spots to propose to your girlfriend. I would pick the spot where he first kissed, where he had the first date and so on. After all, you want to feel comfortable at the time when he pop the question.
Airplane Proposal
This idea is for the adventurous types and involves the collaboration of the flight attendants and the captain. During the flight, the captain will announce an extra special moment and that is your cue to get down on your knee and proposed to the love of your life.
Ring in an Ice Cube
This idea is perfect if you want to propose to your girlfriend at home. You might want to cook a perfect dinner or even better, hire a chef to do that for you. Freeze the ring and make sure she does not see it before. Buy a bottle of expensive champagne or white wine and during dinner, place the cube discretely into her glass (or ask the chef to do that for you).
Street Art Proposal
Hire an artist to draw a beautiful marry me scene and take your girl to the place. Make sure you have a wedding photographer or a friend capture the moment she says yes and the emotions that follow.
Serenade Proposal
This is probably one of my favorites when it comes to engagement proposals. Is a very romantic way to declare your passionate love and ask the woman of your life to spend the rest of your lives together. If you are gifted with the golden voice, she will be absolutely impressed.
Marry Me Bookmark
If your better half is a book aficionado, this could be the perfect proposal idea for you. Create a "marry me" bookmark in place and strategically in the book she loves to read before going to bed. When she notices the bookmark, take the ring out get down on one knee and let her know she is the one.
Fortune Teller
Ask a fortuneteller to create a story about your girl marrying a handsome fellow in the near future. For this, your girl should have her eyes closed and at the perfect time, the fortuneteller will instruct her to open her eyes. She will see you down on one knee, offering her the splendid engagement ring.
Morning Proposal
This idea is best done on a weekend. While your girlfriend is still asleep, prepare breakfast, a bottle of champagne (yes, you will definitely celebrate) and slip the ring on her finger. When she wakes up, tell her how much she means for you and ask her to be your wife forever.
Glow in the Dark Proposal
Use glow in the dark paint to write the question on the dining room wall. Ideally, you hire an artist to prepare the scene. Use smart plug to schedule the "blackout" during dinner and that will be the perfect time to propose.
Surprise Engagement Picnic
Ask her out and organize a surprise picnic in her favorite spot. Pop a bottle of champagne immediately after she says yes.
Snowman Proposing To a Snowwoman
If you live in a colder climate this would be a very cute backyard proposal. Build a scene depicting a snowman proposing to a snowwoman. When she comes home, invited her out and kneel next to the snowman.
Snowman Proposal
Ask your girl to help you build a snowman and when you are done, pop the big question.
PROPOSE WHILE VISITING A FAMOUS LOCATION
If you are planning a trip together, use the opportunity to propose to her. Tour Eiffel, gondola ride in Venice, bicycling in Provence or Tuscany are only a few ideas.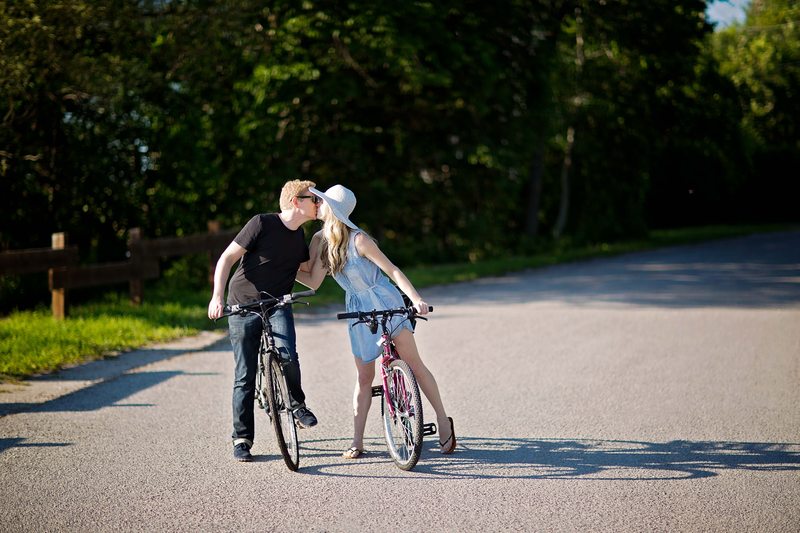 Business Trip Proposal
If the woman of your dreams travel a lot for business, find out her itinerary and arrange an impromptu visit. This is the best done if you have an accomplice (maybe a colleague of her can arrange a business meeting or a dinner in a particular restaurant).
If you prefer the business meeting, be there before the "meeting" starts and write on the white board the question. When she enters the room, you will be ready.
If you like the restaurant idea, ask her colleague to casually go to the washroom and text you so you can take her place and propose.
Restaurant Proposal (Big Budget)
If you have a bit of money, this idea is for you! Invite your girlfriend to the restaurant. Book the whole restaurant and a flash mob who will sing a song, followed by your proposal.
Restaurant Proposal (Small Budget)
You don't need to break the bank to propose in a restaurant. Talk with the general manager in advance. When you arrive, they will tell you that your table is not ready and instead they will ask you to have a drink in a private room. That room will be decorated with pictures of the two of you and your wedding photographer will be ready to capture the moment she says yes.
Commercial Break Proposal
Generally, women love romantic movies and here's your opportunity: find a classical movie (Casablanca comes to mind) and record it. During the movie, insert a clip where you ask her to be your wife forever! Yes, this might take a bit of technical skills but she will be super impressed, I can guarantee you that.
Choir Proposal
If you have a good voice, you might want to use Christmas to pop the question. Ask the quire to help you propose, invite her to a Christmas carols concert and at the right time, the children will invite both of you on the stage where you propose. They could also sing a proposal song.
Here is another option where the groom chose to propose in a plaza.
Here are my favorite proposal songs:
Perfect - Ed Sheeran
Marry You - Bruno Mars - this video clip captures a live proposal.
All of Me - John Legend
Make You Feel My Love - Adele
Let's Stay Together - Al Green
Better Together - Jack Johnson
Marry Me - Train
DJ Proposal
Invite your girl to a club and during the night, ask the DJ to announce your proposal. For this idea to work, you want to make sure you feel comfortable proposing in front of hundreds of people and also, that she says yes.
Romantic Destination Vacation Proposal
Coordinate this with the hotel staff and you will have a perfect proposal opportunity in your hands. Ask them to prepare a surprise romantic candlelight dinner on the beach and propose! Alternatively, have a Marry Me Sign on the beach like the couple
in the video below.
Advertisement Proposal
If your girl commutes to work, buy a huge advertising sign outdoor in which you pop the question. Offer to drive her to work and place the ring in the glove compartment. Stop by the sign and ask the question. Do not use her name and you can share the cost with several other guys looking for a creative way to propose.
Alternatively, buy a full page in her favorite magazine and show it to her on the weekend.
Sunset Proposal
Sunsets are splendid and give you great opportunities to propose. Pick a spot where you can see the city skyline or the perfect landscape and be yourself. Create a bit of ambiance using Christmas lights, candles, playing music, etc.
Sand Written Message
This one is self explanatory and you can make it more interesting if you take your girlfriend on a cruise and you stop on a deserted island where your friends already wrote "Marry Me!" on the sand. Add a table, two chairs and lunch the crew will provide and you have a perfect proposal.
Pop the Question on Stage During a Concert
Invite her to a concert and ask the band if they could dedicate a romantic song to your girl. Pretend you don't know anything about that and at the end, go on stage and ask her to marry you. Here are the top 10 concert proposal videos we found.
Vineyard Tours are Perfect for You Asking
Take your girl to a vineyard tour and after enjoying a glass of wine, go to a private place and pop the question.
Website Proposal
If you are technically inclined, this idea could be perfect for you. Build a webpage where you ask the question and set your girlfriend's browser landing page onto that website. The page will start a slideshow with images of the two of you and the last slide will feature the question: Would you be my wife from now and forever?
Screensaver Proposal
Set the computer screensaver to say "Marry Me" and have the ring ready.
Snowboarding/Skiing Proposal
If you both like snowboarding or skying, start descending the slope, ask her to stop and pretend you have to arrange your boot. When you are on your knee, offer her the ring.
Hiking proposal
Go for a hiking trip with your girl and when you reach the summit, set a camera to film the moment and tell her how much I love her and that you want to spend the rest of your lives together.
Propose Under Chinese Lanterns
Chinese lanterns are very romantic and create the perfect atmosphere for your proposal. For this, you need a quiet day as the wind will ruin the plan. Ask your girlfriend to help you launch a few Chinese lanterns and when you are done, propose to her.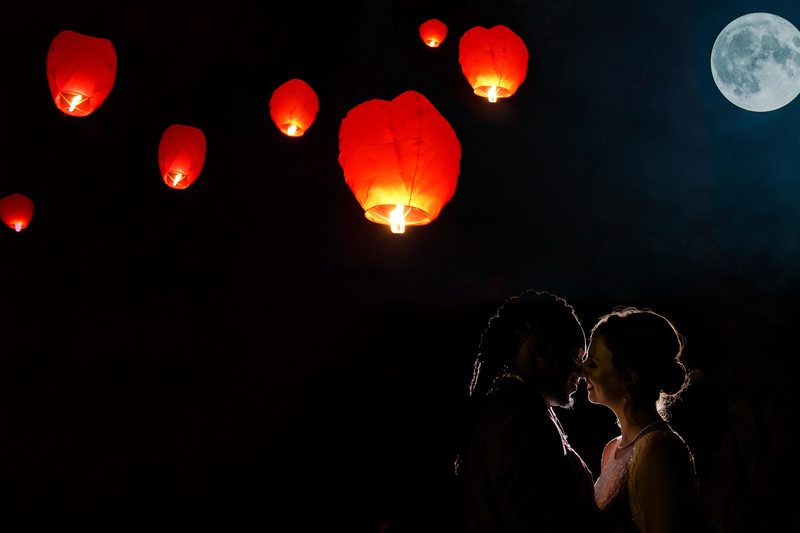 Ask Her in a Hot air Balloon
Take a hot air balloon trip and while you are in the air...well, you know!
Massage
Give your girlfriend a massage and at the end, kneel and slip the ring onto her finger!
Marry Me Puzzle
If you want to propose at home, Buy a "Marry Me Puzzle" and solve it together. If you want, invite some friends to a puzzle solving contest. When you are done, ask the magic question.
Will You Marry Me Desert
Ask the baker to cook a Marry Me cake or a few cupcakes on which she wrote "Will You Marry Me?"
Ice Scratched Proposal on Her Car Windshield
For couples who live in a colder climate this will work like a charm! During a cold night, get out of your house and scratch the question on her windshield.
Hire a pro wedding photographer. Share the plan with the photographer and during the photo shoot propose to her. The beauty about the plan is that after she says yes you can also do you engagement proposal and you will have plenty of photos to show to
the world.
Slip the Ring in Her Favorite Chocolate Box
Does your girl love chocolate? Who doesn't? Then it is easy! Rig a chocolate box and place the ring inside it. Offer her the box on Valentine's Day or at Christmas and be there when she opens the box. I am sure you know what to do next.
Holiday Lights Say Marry Me
For this plan to work, you need a wing man. Create a display made of fairy lights (Christmas lights) and take your girl out to a romantic dinner. She might be disappointed you did not pop the question during dinner but will be impressed when you open
the door and she sees the Christmas lights arranged in such manner to say "Love You! Marry Me!"
You don't have to create a very complicated setup like the one below, but it gives an idea on how it looks.
Proposal Message in the Bottle
Again, you need a friend to help you with this. Take a walk along a beach on which a few minutes before a friend planted the bottle. and ask the friend to watch the bottle (so nobody takes it) and to take lots of photos using a long lens. Even better, hire a pro wedding photographer to do that.
That bottle contains a handwritten message to her. Use aged paper to make it look authentic. Open the bottle and tell her to read the letter. In the letter, explain why you want to spend the rest of your life together.
Will You Marry Me Party
Throw a party with a few friends and family members and at a predetermined time, ask her hand in marriage. Before you do that, talk with your girlfriend's parents to make sure you have their full support. Also, they can help you pull this off and warn
you if the idea is not a good one.
Surprise Engagement Party
Arrange a surprise party and ask your friends to hold the letters WILL YOU MARRY ME?
Jack-o-Lantern Proposal
If your girlfriend loves fall and Halloween, carve a four pumpkins to say "Be Mine 4 Ever" or go with the classic question, like the guy in the video below.
Hide the Ring in a Pumpkin
Hide the ring and a letter in a pumpkin and ask your girlfriend to carve it. When she reaches the ring, ask her to marry you.
Jewelry Armoire Proposal
Buy your girl a jewelry armoire for your girlfriend. If you can, build or order a custom one for her. Fill every drawer with a small gift. In the bottom drawer, place the ring box and a letter.
To make this more interesting, invite your family for the unveiling of the armoire. After you propose, celebrate the engagement with a party.
Wall Message
Back in the day, the bride and groom each other and the altar as marriages were business arrangements between families. However, nowadays it is very common for couples live together for a while before getting married.
This idea works perfect if you just bought a place in the plan to renovate it. Write a beautiful message on the wall ending with the famous question. If you don't think you can do a good job, spend a few hundred bucks and hired an art student to do that
for you.
Prepare a candlelight dinner and at the right time, turn on the lights so she can see the message on the wall.
Meditation Tapes Proposal
If your fiancée to be practices meditation or yoga using ambient relaxation tapes, record your proposal on them and be there when she practices.
If she goes to a studio, you might want to approach the staff so you can propose at the end of a class.
Will You Marry Me Mug
One of the most creative ideas is that of serving coffee or tea to your girlfriend in a mug that changes colors depending on temperature. I am sure you get the idea. Here is where you can find those mugs (I have no affiliation to any of the vendors)
Alternatively, you can get a mug that has the message written on the bottom of the cup so when she finishes her coffee she will see the question.
Scrabble Proposal
This is a very popular way of popping the questions for couples who love the game . Here is a little inspiration if you decide to go for it!
Cinema Proposal
This is another great proposal idea. Invite your girl, family members and friends to a movie. Record a proposal video and play it before the movie. Follow the proposal by an engagement party. Here is how this guy did it!
Your Dog Carries the Proposal Sign
Create a custom marry me sign and hang it to your dog's neck. Also, if your girl wants a dog, buy her a puppy and write the question on the puppy's name tag.
Story Book of Your Adventures Together
Write a storybook and print it at one of your favorite photo labs. Ask her to read the story and when she is done, ask her hand in marriage. This is especially cute if your girlfriend is a teacher and you can convince the principal of the school and
colleagues to help.
Ring in a Baseball
Rig a baseball to fit a ring box, take your girl to a game and propose.
During a Basketball Game
Usually, during a basketball game there is a half game break. Use it to arrange a proposal in front of all the basketball fans like the couple below.
Marry Me Doormat
Buy a "Marry Me" doormat and take her to a romantic dinner. Ask your friends to place the doormat at the door before you return so you can propose.
Airport Proposal
When your girlfriend returns from a trip, hold a Marry Me Sign. If you have a good voice and know how to play an instrument, sing and hire a flash mob or choir to accompany you.
T-Shirt (Child)
This idea is a classic one. If you have a child together, dress him or her in a Marry Me T-Shirt.
T-Shirts Proposal
Wear several T-Shirts telling the story of your love and the reasons why you are perfect for each other.
Glow in the Dark Paint
If done right, this is a great idea! Use a glow in the dark ink (invisible during the day) to write the message on the ceiling/walls. Adorn the walls with beautiful images of you two. Hire an artist to make sure things turn out perfect.
Cook a perfect dinner and when you are ready, turn off the lights and propose!
Zipline Proposal
Arrange a zipline descent and at the end of the line be ready to propose. Be creative and prepare a table for you to have lunch afterwards, rose petals, fairy lights, etc. Bring the family members and friends if you wish.
Lego Proposal
Use Lego people to create a proposal scene. If you are interested in creating a trailer like the one below, please contact Morgspenny Productions
Propose At a Botanical Garden, Zoo or Aquarium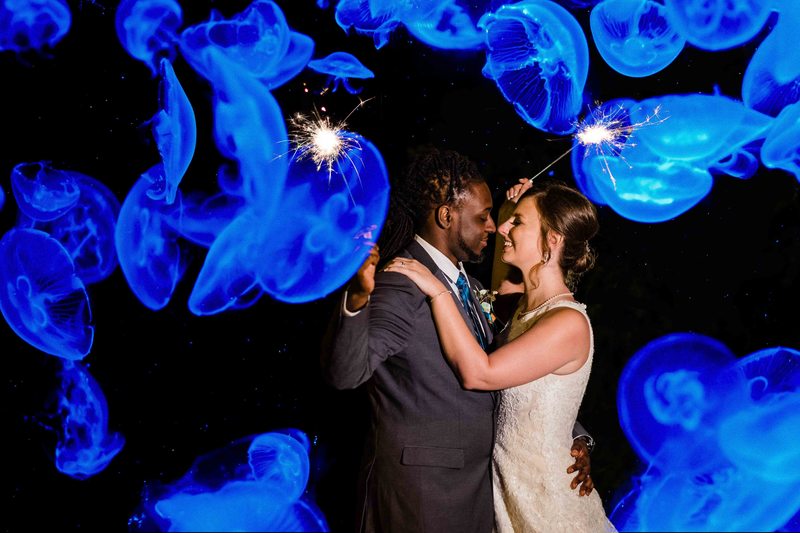 If the girl of your dreams loves a particular botanical garden, zoo or aquarium, go there. Arrange a visit on a day with low traffic or see if you can "win" a tour when the establishment is close for the public.
Snow Written Message
Go to a scenic place and ask your friends to write a proposal message on the snow. When you reach the place, show her the message and the ring.
Wakeboarding Proposal
This is for the adrenaline junkies out there. Take your girl wakeboarding and while on the waves, ask her to marry you.
Scavenger Hunt Proposal
Send your girl on a scavenger hunt with the girls. Make sure she doesn't know what is going on. At the end of the hunt, get on one knee and say the words ...
Photo Album Proposal

Create a photo album with images of the two of you. Invite her to dinner and give her the gift. This is best done on her birthday, on Valentine's Day or at Christmas time. Make sure the last photo shows the ring box.
Bandage Proposal
Place the ring inside your fist and ask a friend to wrap your hand in a bandage. Tell your girl you had a small accident and ask her to remove the bandage for you. Once you open the fist, she will know.
Collector / Antique Shop Proposal
Take your girl to a collector of antiques or to a shop. Ask them to show you several objects and the last one would be her engagement ring. Get down in one knee and propose.
Bungee Jump Proposal
When you are on vacation with your girl, book a bungee jump for the two of you. Just before you jump, propose!
Personalized Bottle of Champagne or Wine
Prepare a customize label and affix it to a bottle of champagne or wine. Prepare a special dinner and before you pop the champagne, pop the question.
Disneyland Proposal
Disneyland is a place where where dreams come true. Ask your princess to marry you using a Disney movies compilation!
Fortune Cookie Marriage Proposal
Insert the ring in the fortune cookie using a paper towel and microwaving the cookie as you can see in this video.
Make sure YOUR girlfriend gets the right cookie or you can end up in a hilarious situation like Hugh Grant.
Hitchhiker's Proposal
Hire an a capella band to be singer to be your hitchhikers. Drive on a road with your girl and give the band a ride. Stop to "get something to eat" and at the right time, the band will start singing a proposal song.
Light Painting Proposal
This is a very complicated proposal and you will need a photographer or videographer who understand light painting. When it comes to light painting, the sky is the limit and you can create amazing imagery. Once you finish shooting the photos or video,
present it to your girl and the rest is history.
Mountaintop Sunrise Proposal
Go to a stunning destination (Maui and Oahu) are just two suggestions. Book a downhill bicycle When the sun rises, do your thing!
Fake Blackout Proposal
During dinner, arrange a fake blackout. When the electricity is restored, you will be on one knee.
Fake Proposal Turns into a Real Proposal
When your girlfriend walks in the park a couple (actors but she does not know that) ask her to film them. The guy proposes and suddenly, a flash mob appears and they sing a proposal song. At the end, you show up and propose for real.
Art Gallery Proposal
Hire an artist to paint you proposing to the love of your life. Talk with the art gallery so they can tell you how you can pull it off. You will need a secluded area where you can ask the question and film the proposal. Take your girl to the gallery.
When you reach the spot...well, you know the rest.
Golf Game Proposal
Take your future fiancee to a golf game and retrieve the ring box from the whole.
Another way of proposing on a golf course is to write the question on a golf ball. At the right time, switch the balls.
Magic Card Trick Proposal
If your girl likes magic - and who doesn't - then perform a magic card trick and have the ring ready at the end of it. Here is a video teaching you how to perform the trick. Enjoy it!
During a Cruise
A great idea is to book a cruise and to arrange an original proposal with the help of the cruise staff. You could for example have a sunrise proposal on the deck of the ship when very few people are around or during one of the events.
Friends Carrying Banners
Order a "Will You Marry Me!" banner and ask a couple of friends to help you out. When you are having a romantic picnic, are on the beach or in another romantic setting, ask your friends to come and show the banner.
Cupcakes Proposal
By a box of her favorite cupcakes and ask the baker to decorate them with the famous words.
Cinderella Moment
Place the ring in the shoes she wants to buy - pretend you are getting her a pair of shoes, when she decides on the size, slip the ring in the box.
Flip Cup Game
Write on the cup "Marry Me" and ask her to join you on a flip the cup game.
Underwater Proposal
If you both like scuba diving, ask another diver to place the engagement ring in the box the love of your life will "discover."
Fishing Proposal
If your girlfriend likes fishing, we have a great idea for you. Hire a scuba diver to place the ring box on the hook.
Surfing/Proposal on the Beach
Everybody likes a long walk on the beach at sunset. Ask a few surfers to write "Will You Marry Me" on their boards and to come out of the water or walk towards you at the right time.
Northern Lights
The northern lights are perfect opportunity for you to express your love and desire to spend the rest of your life with your soulmate. Book a Northern lights tour and ask the staff to prepare the most romantic setting possible with candle lights, a bottle of her favorite drink and of course hot chocolate.
When the staff wakes you up to see the northern lights, she will be impressed with your love (and the careful preparations) and say a definitive YES!
Helium Balloons Spelling the Question
If you are the more introvert type and like to propose at home, you could create an arrangement of helium balloons spelling "Marry me!"
Paragliding
This is an excellent proposal idea for the adrenaline loving couples. Ask your future fiancée to join you in a paragliding adventure. At the landing spot, place a banner with the words "Will you marry me?"
Fake Newspaper/Magazine
Ask a printing house to prepare a fake magazine (ideally the one she loves) and place it on the coffee table. In the morning prepare her the best coffee you ever made and give her the magazine to read.